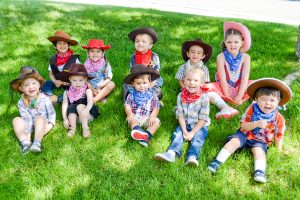 Every Summer has its own story, and boy did we have a blast last Summer!!! From being cowboys and having a rodeo to transforming into super heroes and saving the world, we did it all!
Cowboy week found us putting our chaps on and racing around the rodeo ring, with our trusty steed of course! We used our imaginations and went back in time to the Wild West, where we ate corn on the cob and biscuits.
We laced up our running shoes, flexed our strong muscles, and ran through the obstacle course towards the finish line during the Creative Kids Academy FUN-lympics! Our class even had our initials and ages on our shirts! Crossing that finish line was our favorite part!
And of course, we couldn't let summer end without putting on our capes and saving the world during super heroes week! We also learned that we don't need capes and big secret missions to be heroes. We learned that we can be heroes every single day by making good choices, choosing to be kind, and being good friends and children. What a fun Summer! We can't wait to see what's in store for us this year!