Creative Kids in the Kitchen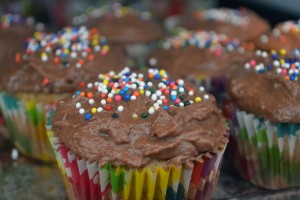 At Creative Kids Academy, we have our weekly cooking classes with Chef Justine! You see, Ms. Justine is not just a teacher, she's a professional chef as well! Ms. Justine graduated with a degree in Hotel and Restaurant Institutional Management, with an emphasis in Culinary Arts. After spending several years in the kitchen, we are so lucky to have Ms. Justine as part of our community, and the children enjoy cooking with her.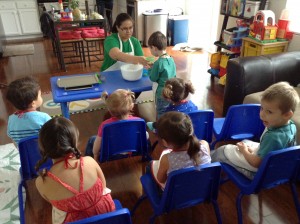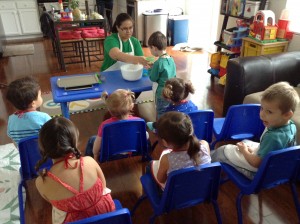 One might wonder why cooking with children is so important. WIthout realizing it, children are learning different language, math, science, and nutrition concepts as they participate and create in the kitchen. Recipes encourage reading, measurement, and emphasize the importance of following directions.
Spending time in the kitchen also allows our children to learn about healthy eating and nutrition. With our picky eaters, showing them how their food is made, and seeing the process of how things change from one thing to another encourages them to try new things. Chef Justine also emphasizes the importance of kitchen safety, health, and hygiene.
Here are some of our favorite recipes that we've made so far!
Banana bread cupcakes with Nutella Frosting
Recipe from cinnamonspiceandeverythingnice.com
INGREDIENTS:
1 1/2 cups all-purpose flour
3/4 cup sugar
1 teaspoon baking powder
1/2 teaspoon baking soda
1/4 teaspoon salt
1/2 cup unsalted butter, melted
1 1/2 cups mashed bananas (about 4 ripe bananas)
2 eggs
1 teaspoon vanilla extract
Frosting:
3/4 cup Nutella
4 tablespoons butter, at room temperature
3 cups confectioners' sugar
1/2 teaspoon vanilla extract
3-4 tablespoons heavy cream
INSTRUCTIONS:
Preheat oven to 350 degrees F. Line a 12-cup muffin pan with paper liners.
In a medium mixing bowl whisk flour, sugar, baking powder, baking soda, and salt together.
Make a well in the center of the flour and add butter, bananas, eggs, and vanilla. Mix the wet ingredients together briefly then incorporate the flour mixture, stirring until just mixed, being careful not to over mix.
Spoon batter into muffins cups or use a large ice cream scoop, dividing evenly among each one about 3/4 full.
Bake about 22 minutes or until a toothpick in center comes out clean. Allow cupcakes to cool in pan about 5 minutes then remove to wire racks to cool completely before frosting.
Frosting:
In a stand mixer or using a hand beater whip nutella and butter in a large bowl until well combined, beat in confectioners sugar, then add vanilla and 2-3 tablespoons heavy cream, continue beating on high speed adding more cream or confectioners' if needed. Frost cupcakes immediately.
Ham, Cheese, and Spinach Muffins
Recipe from learnwithplayathome.com
INGREDIENTS:
250g grated tasty cheese (approx 2 loose cups)
2 cups of self raising flour
2 eggs
1½ cups of milk
½ cup of chopped ham
Large handful of baby spinach
Sprinkle of mixed herbs (optional)
INSTRUCTIONS:
A. Preheat oven to 180°C (356°F)
B. Sift flour into a large bowl.
C. Whisk eggs, chop spinach and ham.
D. Make a well in the flour, add in the rest of the ingredients and mix until combined.
E. Spoon into a greased 12 hole muffin tray (sprinkle with herbs, optional) and bake for 25 minutes or until the tops are golden brown.
BON APPETIT, YOU MAY EAT!